Commercial Gate
Back To Our Services
24 hour gate services by well-equipped technicians!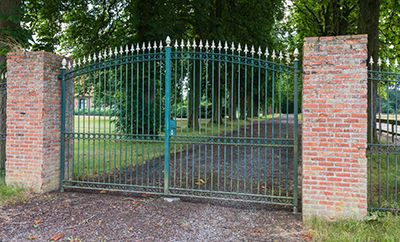 No matter on which type of property it is installed, a damaged gate is inviting to trespassers and to wrongdoers of all sorts. On another side, it can be a serious hindrance to the regular traffic in and out of a commercial space, which translates to much stress and lost efficiency. A poorly functioning gate for a commercial space is an ordeal. The expert commercial gate Canoga Park company is well aware of the special requirements in terms of durability, resistance, frequent use and security regarding one such mechanical structure. Keep on reading to find out what we provide.
As a professional commercial gate service provider, we answer your calls right away and are ready to come and inspect the site as soon as it is asked of us. Troubleshooting only takes a short while. A commercial gate in Canoga Park is a much different structure than one used on a residential property. Its weight is usually much higher and it is designed to suit frequent opening and closing moves. Easiness of operation and speed are essential characteristics to be achieved and preserved. The same goes for parking and garage gates. Each of these types, however, has its distinct features. To make sure you get the right assistance and services, call for our experienced specialists.
The common type for garage rooms, residential or commercial, is represented by the overhead gates. These are actioned by a motorized device placed on the ceiling, which connects to the door. A very modern and efficient structure is that overhead gates which made of several connected parts. Each connection is a mobile one and uses a rolling effect when it is lifted up by the mechanism. This is why these are called roll-up gates, as each segment moves up, following the one it is connected to.
When a commercial place features a roll-up gate for its rooms or garages, or any sort of entrance/exit gate to control incoming traffic, certain problems are sure to arise with time. Note that an installment like this is far more frequently used than a home gate. If there is a programming or sensor error, our company can fix it. Also, we can replace parts like tracks, wheels, locks, and so on. We will inspect to see if the initial choice of components was a wrong one, because it happens to find poorly chosen commercial gates in Canoga Park. This means a situation in which the wheels are of a too soft material and can't support efficiently the weight of the gate. Many of these gates are of industrial type, therefore require superior support strength.
Opt now for first class customer service if you are dealing with a troublesome commercial gate. Besides expert assistance, you will get the right technical information, maintenance tips or services and, of course, quality repair and replacement operations. We know that the best way is not to reply on superficial, universal solution, but on customized services to suit the exact type of the gate concerned and the needs of the company it serves. The whole Canoga Park area can benefit of experts' knowledge and skills. Experienced licensed engineers can work for the efficiency of your business if you make a call for commercial gate Canoga Park help.