Residential Gates
Back To Our Services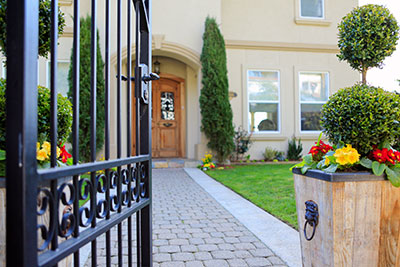 Welcome to Gate Repair Canoga Park where our customers receive residential gate service they can trust to be affordable and efficient. Our gate experts are proud to provide exceptional gate repair, gate & opener installation for our friends and neighbors in the community. We have established a favorable reputation because we are dedicated to ensuring same day gate service whenever our customers require it. In addition, our 24/7 service pledge means we can provide the service at the most inopportune time. Our gate experts are the best trained techs in the business and they will always be friendly and professional in their approach. They can answer any questions and their work ethic will prove undisputable. Never settle for less than you deserve. Call Canoga Park Gate Repair for all of your residential gate service needs.
Our company provides all types of gate installations and repairs including rotten gate repair. Your sorry looking gates will look brand new again with expert service. Our company's high quality of workmanship speaks for itself. To keep gates in perfect running condition, offer superior preventive maintenance service. In addition, perform swing gate adjustments, sliding gate chain replacement, and fix driveway gates. We have the best intercoms, remotes and openers for gates too. Rely on our expert assessment and advice on gates for improved security and convenience. The thousands of customers served through the years can vouch for our reliability and efficiency.
Residential Gate Installation Service
The addition of a beautiful gate for your driveway can really take your home to a level of class that will truly enhance your curb appeal in the community. When you call upon Canoga Park Residential Gate for service you can be rest assured that you will get treated like the number one customer in the world. Our gate technicians will display craftsmanship that will leave you in awe. Gates are more than just something pretty to look at. Gates are great for security reasons too. You get the best of both worlds; you keep your family safe and make your home look great as well. The best part is you don't have to settle for one particular gate. You can choose from many that are on the market including:
Wrought iron gates
Electric gates
Sliding gates
Customized gates
Swing gates
It really depends on the style of gate you find most alluring. Many of our customers are drawn to the customized gates because it allows them to create a gate that fulfills all of their personal requirements. Our Residential Gate Company in Canoga Park is excellently prepared too install the gate of your choice the same day you order it. You won't find that kind of devotion every where.
Exceptional Residential Gate Openers
Not only does Canoga Park Gate Repair install gates quickly and proficiently, but we also install exceptional Residential Gate Openers as well. We truly believe that great gate service begins with the offering of superb brand name openers that our customers can depend on for the long haul. Our techs not only install residential gates, but they repair them too. If you want your gate too open automatically then you need a gate opener to make it happen. Whether you use a gate opener keypad or a gate remote to open your gate; it is vital that it opens and closes at your command. Our Residential Gate Openers Company in Canoga Park is the contractor to call for outstanding service around the clock.